Check out this list of our most frequently asked questions to learn more about our porta potty, trailer, billing capabilities, and more!
Porta Potties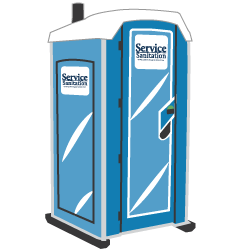 Portable restrooms and strong winds don't typically mix.  To help anchor your restroom you may want to consider staking them for additional support.  Stakes will help keep your restroom in the upright position so it can be utilized for the full duration of your rental. Please note: While anchor stakes can help minimize tip overs, they can only be utilized if the restroom is sitting on soft and level ground.  They will also do very little to fight tip overs from juveniles or vandals.
Restrooms, Sinks and Trailers can all be rented without scheduled services. If setup this way, your invoices would reflect an equipment leasing fee. Additional services would be charged on an as-needed basis.
Absolutely! Our only concern is that the portable restroom and/or sinks must be placed no further than 40 ft from our service truck. Anything further and our vacuum trucks may lose suction and have a hard time pumping the waste tanks dry.    If the distance is further than that please notify our customer service center and we'll see if special arrangements can be made.
Absolutely! One day rentals are actually quite common. We would call this a short-term or special event rental and we even have special restrooms set-aside for this type of use. The price you are quoted is based on the one-day usage, however, you can keep the unit for up to 5 days at no additional charge. If you will be using the unit more than one day, we recommend scheduling additional service calls in-between each day of use. Extra service calls are billed at an additional charge to the rental price.
Weekly service includes pumping of the waste tank, a blue sanitizing recharge, interior sanitation of the walls/urinal and restocking of supplies including two toilet paper rolls and water/soap/paper towels for standard/deluxe units.  Click here to learn more on how we keep our restrooms clean.
Of course! When the time comes and you need your portable restroom cleaned, give us a call. You'll love the fact that our team of sanitation experts can be on-site within 24 hours to pump and clean your customer owned portable restroom. Each signature service includes a complete pumping of your restroom's waste tank, a sanitizing rinse and restocking of supplies.
Trailers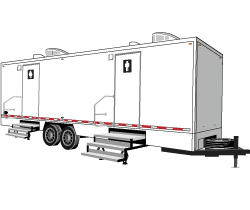 Billing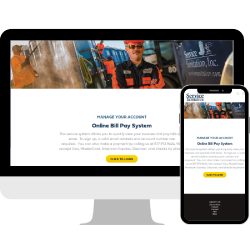 To receive your bills via email you'll need to enroll in paperless billing.  Sign up today by completing the form listed below. Once completed, all future invoice/statements will be emailed directly to you.
Recurring payments can be setup anytime with a bank account (checking or savings) or credit card (Visa, Mastercard, AMEX). To setup, please contact our customer service center at 800.909.5646.  Once enrolled, a full billing cycle will need to occur before the auto-payment feature is activated.  Payments will then occur 10 days after the invoice/statement is generated.   To verify if your account is enrolled in autopay, look for the "Do Not Pay" verbiage listed at the bottom of the invoice/statement.
All special event rentals must be prepaid, unless other arrangements have been made with a sales representative.  All routed restrooms are billed on a 28-day billing cycle, billing 4 weeks in advance.  Each billing cycle you will receive an invoice/statement via email showing all company jobsites.  Individual invoices are available through our "MyBill" billing portal.
If you'd like to receive your invoice/statement in the mail, please let us know by emailing billing@servicesanitation.com.  Once the request is received, please allow one business day for the changes to take effect.
General
The optional damage waiver program protects renters from having to pay expensive replacement costs due to theft, vandalism or accidents. The damage waiver also protects renters from lost or stolen equipment (police report required). To learn more about damage waiver protection please contact our customer service center at 800.909.5646 or click to learn more about our damage waiver program.
At Service Sanitation we are committed to providing unsurpassed sanitation services to the City of Chicago and beyond. We also work to control our costs in order to provide customers with exceptional services at reasonable rates. Fuel prices are unfortunate costs that we are unable to control unilaterally. The fuel surcharge is a fee designed to help us recover these costs and is identified as a single line item on your invoice. The fuel surcharge is assessed as a percentage rate that fluctuates each month. This percentage is determined by the most recent published data from the U.S. Department of Energy.
To cancel service and schedule a pickup please contact our customer service center at 800.909.5646.  To assist in locating your account, please have your customer number and/or restroom ID number handy.  Upon completion of your request, a cancelation number will be provided to ensure service has been stopped and a pickup work order has been issued.
Maintaining one of the largest portable sanitation fleets in the United States is no easy task!  Each year our inventory of equipment is carefully inspected and retired as needed.    To stay up to date with current equipment for sale please visit our Used Equipment Page.
Unlike traditional home bathrooms, portable restrooms utilize a plastic holding tank which temporarily traps waste water until a licensed service technician can dispose of it properly.   Holding tanks eliminate the need for expensive plumbing and allow these types of restrooms to be placed almost anywhere. When it's time for your restroom to be serviced, the holding tank is pumped dry by using a state-of-the-art pumper truck. This truck is equipped with the proper tools needed to safely remove the waste and transport it to a water treatment facility where it can be disposed of properly.
We currently have dispatch locations in Wisconsin, Illinois, and Indiana that allow us to reach a majority of the Midwest region.  To assist customers outside of that territory, we've partnered with other operators with similar values to our own to ensure services can be accommodated.  These partnerships have given us the ability to provide services that reach far beyond our normal service area and an inventory that far exceeds our own fleet. This allows us to provide nationwide services for both special events and construction.