Restroom Rentals for Weddings
It's no secret that planning an outdoor wedding can have its fair share of challenges. This is especially true when it comes to the restroom facilities! While not as glamorous as a venue or a photographer, your choice in portable restrooms play an important role in the success of your celebration. If your location is without proper restroom facilities, you may want to consider a luxury restroom rental. After all, who wants to deal with overcrowded, muddy or clogged toilets during their big day?  Not only do we have the products to complete your wedding vision, we also have the expertise to make your reception a true celebration of life.  We want to make your day beautiful AND easy. 
The wedding deluxe facility was custom-designed to create an overall better restroom experience for you and your guests.
These custom-tailored trailers work to find the balance between privacy and luxury while also providing a truly unique experience.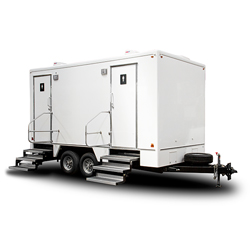 Equipped with unrivaled design and innovation the Blue Stars are sure to surpass all expectations with versatility being key.
With refined tastes in mind, the Presidentials are furnished with hardwood floors, ambient audio controls and flattering LED lighting.