Service – It's not only part of our name – it's in our nature.   We are a local, family-owned business with over 50 years of experience in providing portable sanitation services to the city of Chicago, Indianapolis, Milwaukee, and the greater Midwest.  We are a team of highly trained professionals committed to our customers, our greater community, and the environment.  As an industry leader, you can expect us to stay on the cutting edge of sanitation advancements, technology, quality assurance programs, and efficiencies that make a positive impact on your customer experience.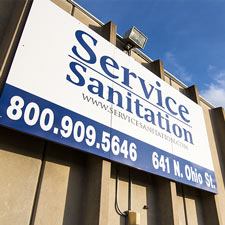 Our company headquarters is located in Gary, Indiana.  Located in the center of our major service area, we can dispatch equipment quickly and efficiently to greater Chicagoland. Additional operational hubs were strategically placed in the city of Chicago, Aurora, Lincolnshire, and Indianapolis to better meet the demands of our expanding geographic service area.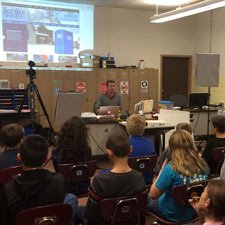 As an active member of the PSAI, we are continually working towards improving our industry and the role it fulfills in society.  By attending annual conferences and seminars, we aim to stay ahead of industry advancements.  As a family-owned company, we believe in giving back to those our community via employee service days, food drives, and volunteerism.  On a national level, we have also responded to dozens of large-scale emergencies, such as Hurricane Katrina and Hurricane Sandy.  Our participation in relief efforts has allowed us to learn how we can better serve those around us.
For more than 50 years, Service Sanitation has provided sanitation services across a wide variety of applications.  From large events to job sites with unique requirements, these experiences have shaped who we are as industry professionals and how we address sanitation challenges.  In addition, we employ a team of dedicated, highly trained individuals who are equipped to provide a level of service aimed to exceed your expectations.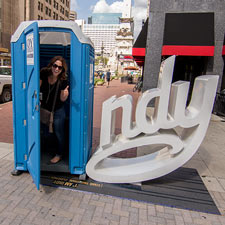 We service Chicagoland, Northwest Indiana, Indianapolis and parts of Lafayette and Milwaukee. Since the year 2000, we've strategically acquired local sanitation companies, including Batavia Can, A-Superior, Commodes to Go, Terpstra Sanitation, Castlerock Sanitation, Maggio Rent-a-Potty, Tidy John, Wilson Rental, Best Sanitation, American Portables, Indy Portables, Nature Calls, LepreCan and most recently AJAX Waste Services.  These acquisitions have expanded our service area and allowed us to provide customers with a larger selection of services, 24/7 availability, lightning fast deliveries and a dedicated staff that truly loves what they do.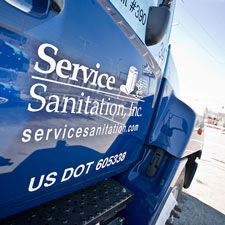 To date, Service Sanitation currently owns more than 20,000 portable restrooms, 150 service trucks, and 100+ restroom trailers.  While these numbers may seem grand, we still believe it is quality versus quantity that makes us who we are.  We provide the type of quality equipment you would expect from an industry leader – equipment that is well-suited to meet the expectations of your guests or jobsite workers.
The Service Sanitation team is dedicated to customer satisfaction and a high level of quality.  Our unique quality assurance program includes quality control inspections, GPS fleet tracking, and continual evaluation of our services via customer feedback.  This commitment to ongoing improvement has helped us consistently raise our service standards to an entirely new level.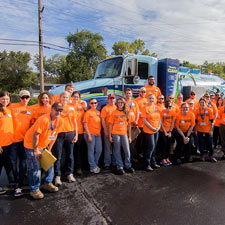 Service Sanitation's leadership team believes in social responsibility.  Because we want our employees to be active volunteers in the community, we offer a paid "Service Day," providing employees an opportunity to volunteer for a cause personally meaningful to them.  We pride ourselves on service.  It's part of our name, and it's what we believe in.  Service is what sets us apart!  To drive home that idea in all aspects of the organization.  Learn More